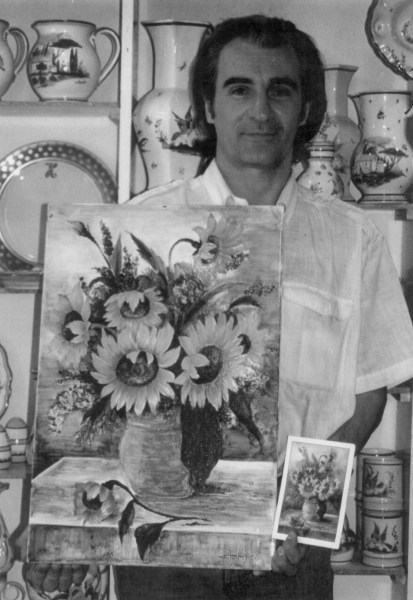 Francis Huot paints since his childhood.

Always been passionate about art, he studied at the Longchamp School of Ceramics where he graduated first of his promotion.
He has already been working in ceramics for over 37 years.
.
He is recognized as an artist of great talent wherever he worked, whether in Moustiers or Vallauris, two places well known for their ceramics and pottery arts, but also in Calvi, ​​Corsica.

Selected in 1982 and 1986 for the Prix du Meilleur Ouvrier de France (Best Craftmanship of France contest), Francis Huot has since worked for international celebrities.

Some of his pieces adorn the Buckingham Palace, others have been made to the Principality of Monaco and Philippe de Rothschild (Mouton Cadet Pauillac).

Quoted repeatedly in the international press like Japan's art magazine H20, he was present in numerous exhibitions in France but also abroad in Osaka, Japan or in Garmisch, Bavaria.

Francis Huot achieves stunning tableware, lamps, vases, dishes, plates, house signs but also pieces of earthenware made on demand. He also creates beautiful ceramic wall panels. He crafts decorated bathrooms, kitchens, exterior frescoes or whole restaurant decorations.

He also works on demand, allowing everyone to get a unique and completely personalized piece.

This artist has continued making its creations evolve, thus adapting to new trends throughout his career.

Today, he works in his workshop in Villefranche de Conflent in southern France.